ROB MEURER SCHOLARSHIP FUND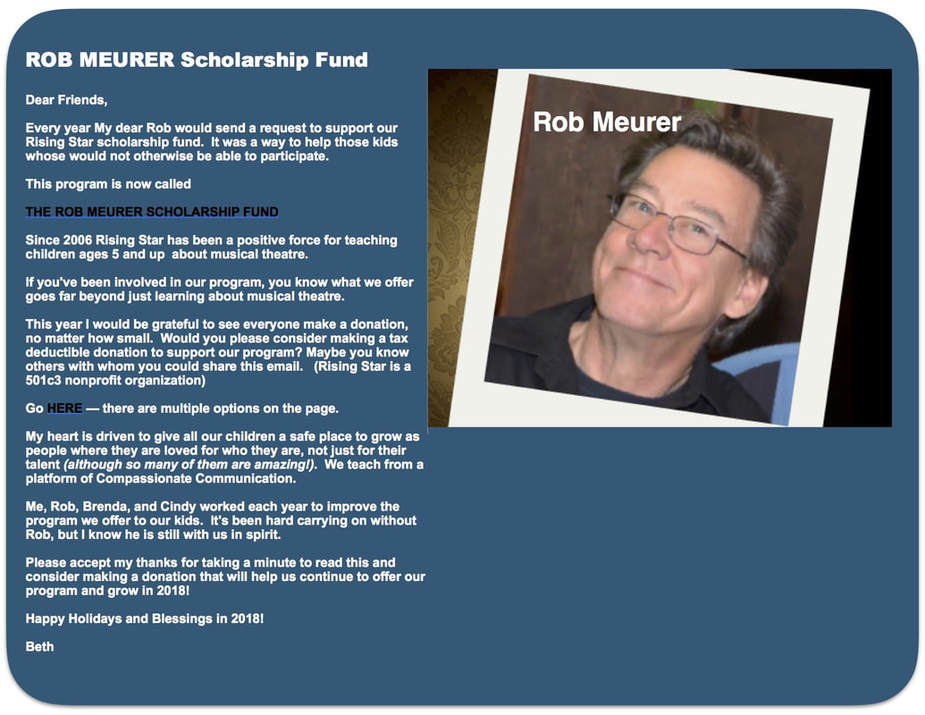 Since July of 2006 Rob and I have worked with kids ages 5 - 16 to create musicals and in the process have a lot of fun.

When I began Rising Star, Rob never intended to be involved. I said, "I think I could run a children's musical theatre program." Rob said, "You should do that." Little did he know that nearly 10 years of his life would be spent as a teacher. He saw himself as a writer, but we all know he was much more than that. A funny man who enjoyed making the kids laugh and loved teaching them about the humor in the shows we produced.

Over the years his involvement grew from just running the sound to being an integral part of every aspect of the program including; assistant director, teaching them about harmony, working on dialogue, developing character, and on and on.

He loved Rising Star and told me many times how proud he was to be a part of the program.

Every year Rob sent an email requesting donations to our Rising Star Scholarship fund. It was always our policy to find ways to help those who couldn't pay the tuition, which covers the expenses incurred throughout the production.

This scholarship fund will now always be a tribute to my darling Rob and everything he brought to our Rising Star kids and families.

I am proud of everything he contributed to Rising Star and THE ROB MEURER SCHOLARSHIP FUND will always be a part of our program.

You can choose to contribute monthly or one time donation.

​Rob and I thank you!
---