RISING STARS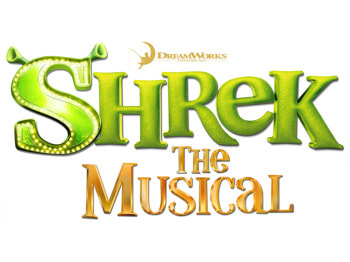 ENROLL TODAY TO RESERVE YOUR PLACE!
On his seventh birthday, two ogre parents send their son
Shrek
out of their house and into the world to make his living. They warn him that because of his looks, everyone will hate him, and he will not have a happy ending. ("Big Bright Beautiful World"). Some years later, an embittered, grown up Shrek is living contentedly alone in a swamp. However, his solitude is disrupted when a band of fairytale creatures show up on his property.
They explain of their banishment from the Kingdom of Duloc, by order of the evil
Lord Farquaad
, who exiled them for being freaks, under penalty of death if they ever return ("Story of My Life"). Even so, Shrek decides to travel to see Farquaad and try to regain his swamp, along with getting the Fairytale Creatures their homes back (but mostly to get his swamp back), with much encouragement from Pinocchio and the gang ("The Goodbye Song").
Along the way, Shrek rescues a talkative
donkey
from some of Farquaad's guards. In return for rescuing him, and offering his friendship, Donkey insists on tagging along to show him the way to Duloc ("Don't Let Me Go"), which Shrek reluctantly agrees to, due to him being lost
A seven-year-old Fiona dreams of the brave knight who, as her storybooks tell her, will one day rescue her from her tower and end her mysterious curse with "True Love's First Kiss". As she grows into a teenager, and then a headstrong woman, she becomes a little bit stir-crazy, but she never loses her faith in her fairytales ("I Know It's Today").
​
---
---
| | |
| --- | --- |
| To make a 50% deposit and hold your child's place, click the option below. | |