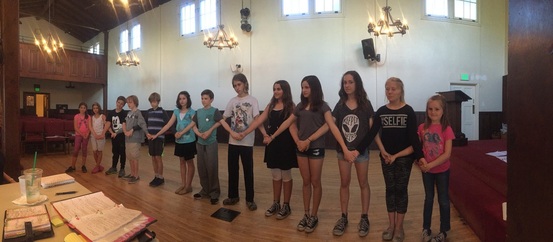 What is Rising Star Children's Musical Theatre Troupe?
Rising Star is a performance based theater program for students ages 5-16. RS provides the unique opportunity for aspiring young actors to be in a musical cast only with children.
Where and when do the rehearsals and shows take place?
RS rehearses at the Unitarian Universalist Church of Studio City, 12355 Moorpark St., 91604 and each production culminates with performances at a professional theatre venue either in North Hollywood or Burbank.
How many performers are accepted into the cast?
We are looking for 10 - 25 young performers, actors and singers. Depending on which program your child is participating in.
What is the age range of children who are auditioning?
The age range is 5 - 16.
What do I need to prepare for the audition?
You need to prepare 16-32 bars of a musical theater song that shows off your personality and vocal ability. Bring an accompaniment CD. You will also be asked to read a monologue or short scene. You may also be asked to do a dance audition.
Do I need theater experience to audition?
Not necessarily. We are looking for young artists who can sing and act, and who love to perform. This does not mean you need to have tons of experience; it means you need to have the desire to learn and work hard.
Is my child guaranteed a leading role in the show ?
The short answer? No. We can not promise that anyone will be cast in a leading role. We do however, have a RS policy: Any child who is cast in a big role is not eligible for a big role in the next show they are in. That means, if you decide not to participate in our next production, you still will not be eligible to have the big role in the next show
you
participate in. As with every
RS
program, we believe that every actor — regardless of the "size" of their part — deserves a moment to shine. We work hard to give everyone their moment.
When will I know if I have been accepted?
In RS everyone is accepted up to our maximum. The best way to guarantee that you are cast is to enroll early. Once you have enrolled you will be sent a registration packet to complete that will contain all the information you need to participate.
Is there a cost to participate?
Yes. RS is a tuition-based program. Tuitions are: Little Stars /$225, Lucky Stars /$525, Rising Stars $725/performer. With some discounts for siblings.
Are there scholarships available?
There are a few need-based scholarships available for families that qualify. If you are interested, you need to complete a scholarship application, and bring it to your audition.
How is the RS different from other programs?
RS's program is completely performance based. Students spend all of their time focusing on the production performances, acting skills, dancing skills, and singing.
If you have any questions that were not answered here please feel free to email: risingstarcmtt@sbcglobal.net or call (818) 749-8051. We are always happy to talk to anyone who is interested in our programs.
Beth Meurer
---